WHAT WE DO
Creating amazing events is what we do! We specialise in corporate theming, event styling, furniture hire and brand awareness in Perth, Western Australia. We have earned our solid reputation as event stylists not only for our creative concepts but also our professional and personable 'hands-on' approach. We listen to what it is that's important to you, what is the purpose of the event and what it is that you are trying to achieve. We also understand that guests need to feel totally immersed in the theme or style and story of your event – engaging your guests is critical to your events success!
What separates us from the rest? We have a two massive warehouses that are overflowing with our own furniture, styling elements and props for hire – there is no middle man! We travel the world in search of the next best thing to ensure we provide today's corporate client with original ideas that align with current trends. And, we have our very own Creative Designer who can deliver the full impact of your message by bringing your brand to life!
Whether you are chasing ideas or already have a concept in mind, our event production team will work strategically with you to achieve your goals and transform any space into something truly extraordinary. Our vision is to take each guest on an amazing journey, to connect with their emotions and create a much talked about event experience!
Have a look through our theming, styling and furniture galleries to get a feel for our work, then contact us to discuss the many options for your event.
Our booking process is simple. Follow these steps to let us create an amazing event for you :
STEP 1
Contact us to discuss your event in detail. We will provide you with a customised proposal, mood board, images and quote and then get you to provide feedback if you would like any changes made. We will work closely with you to ensure we come up with the best concept for your venue, brief and budget.
STEP 2
Once you are happy with the quote provided, you will sign and return with a 30% deposit to lock in your event. No event is confirmed until we have received both the signed quote and 30% deposit. The balance in full is due prior to the event.
STEP 3
We will now work with you on all the logistics of your event. Ensuring all the finer details are covered and everything that is delivered exceeds your expectations!
Call us today to talk about talk about how we can take your event to the next level!
OUR WORK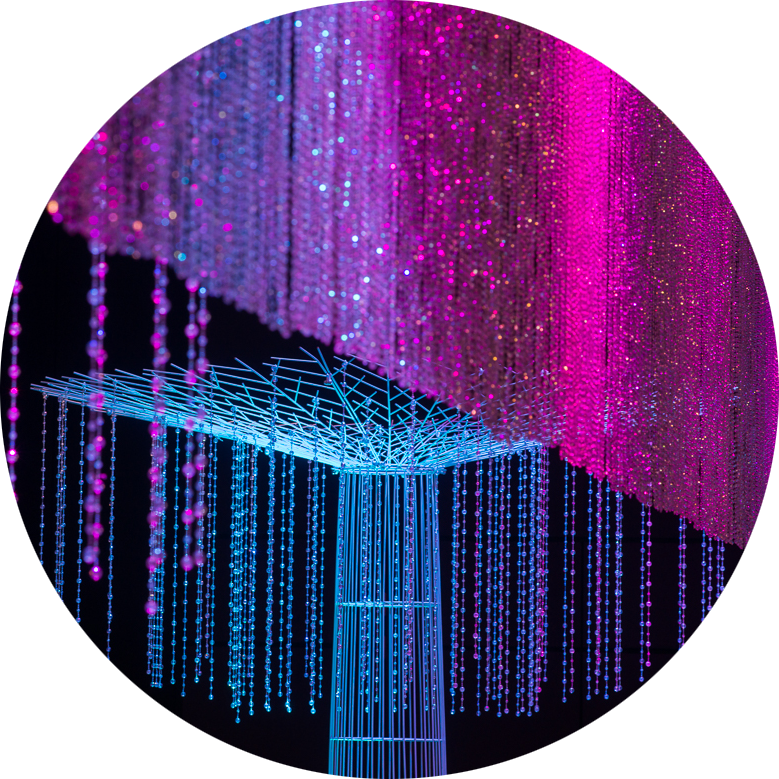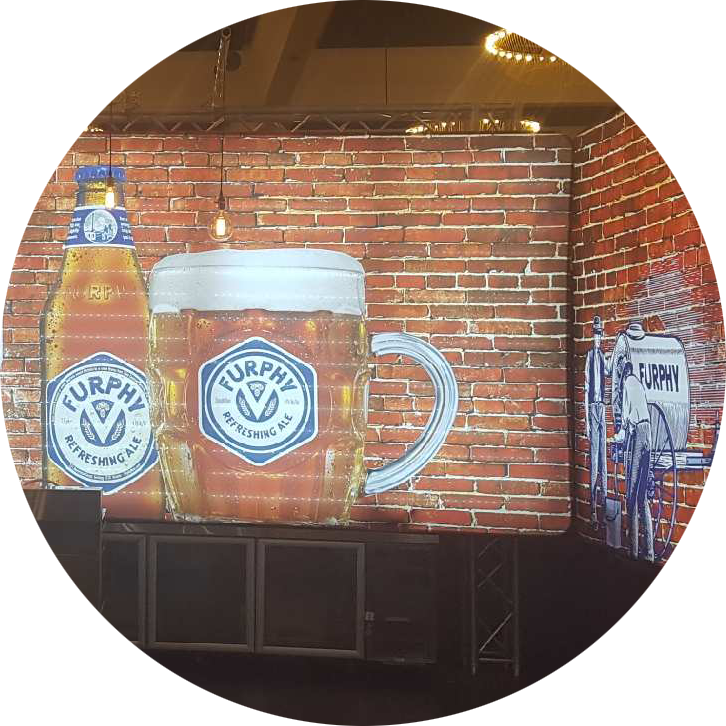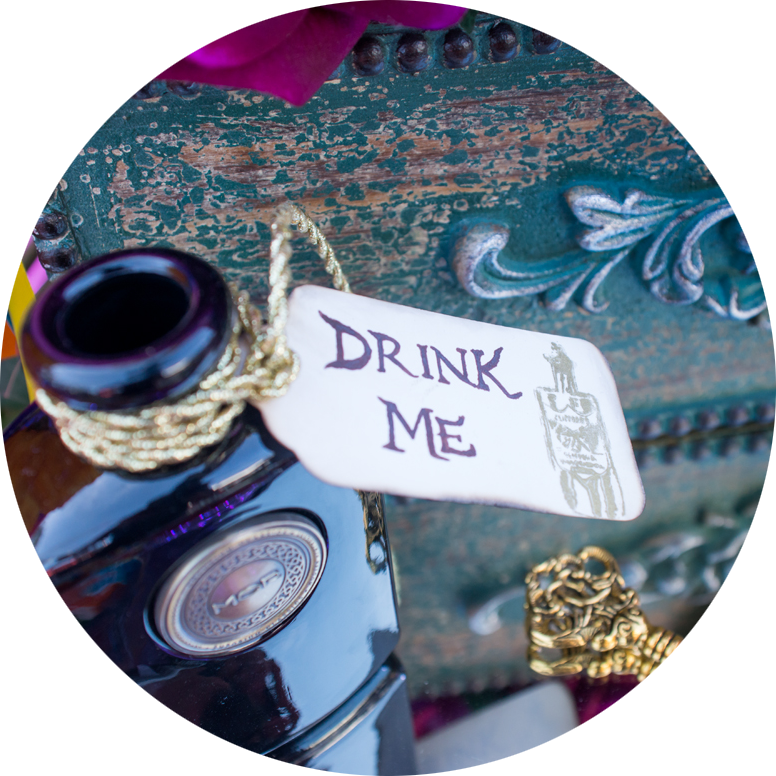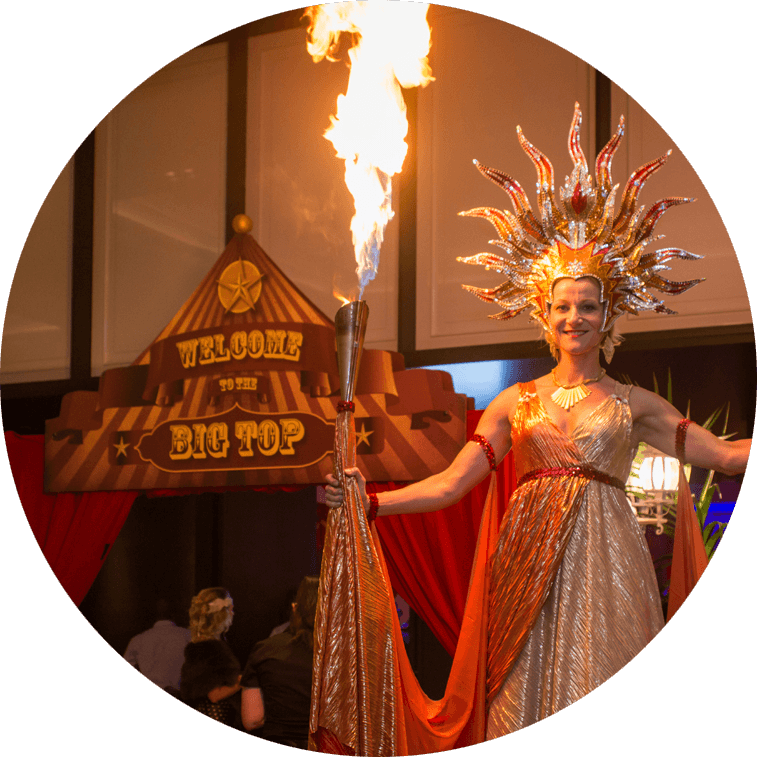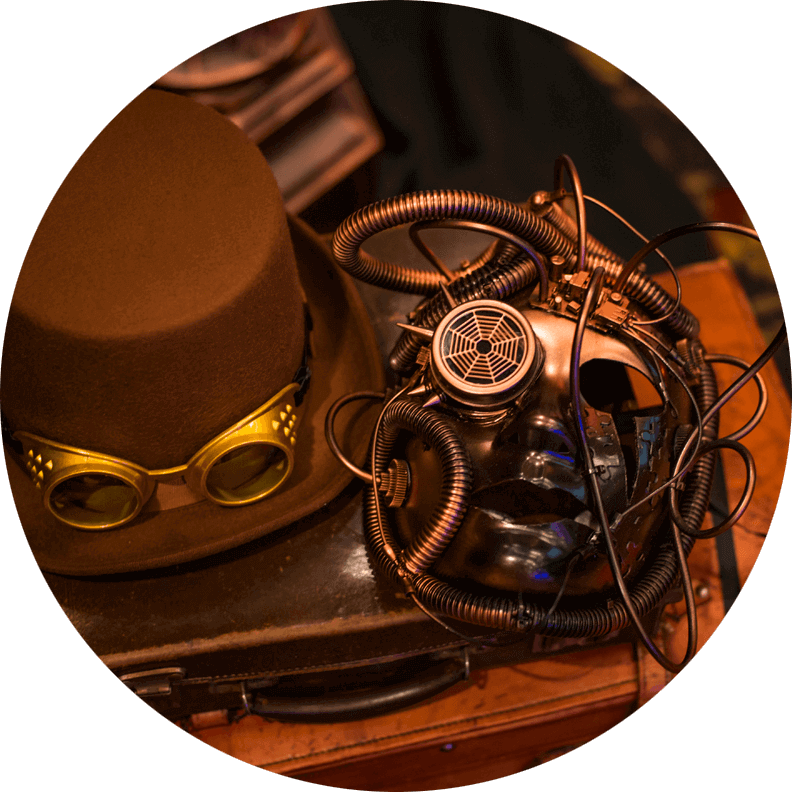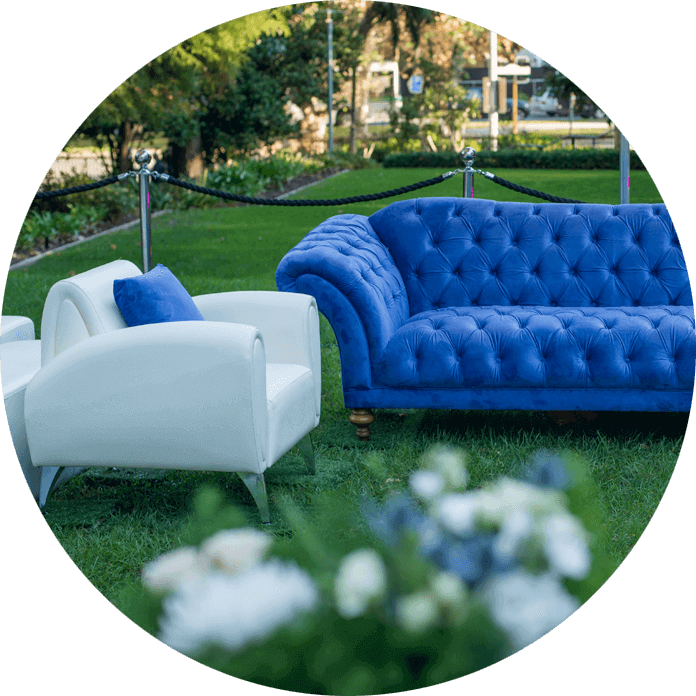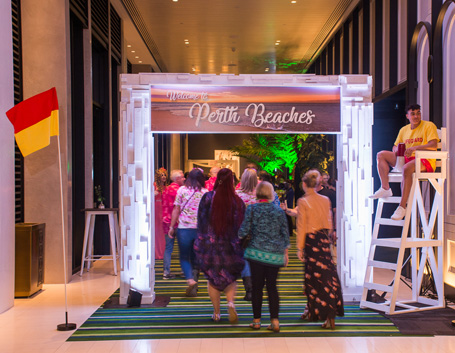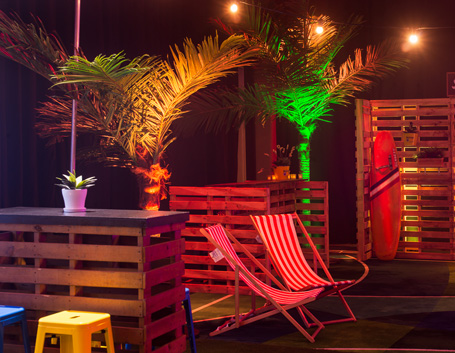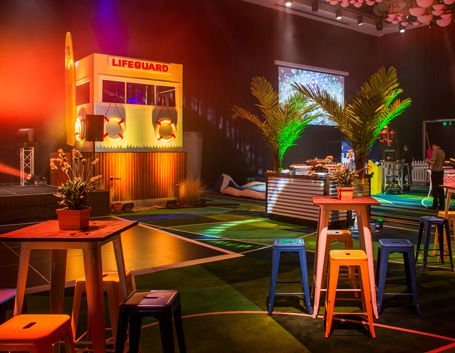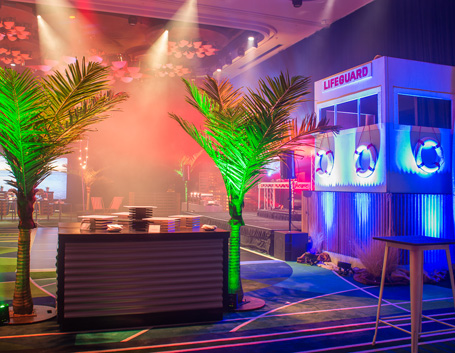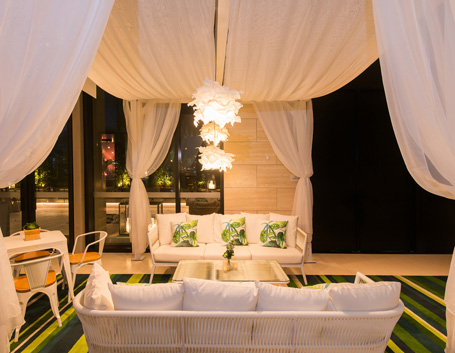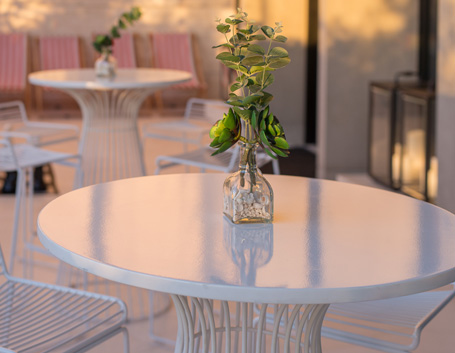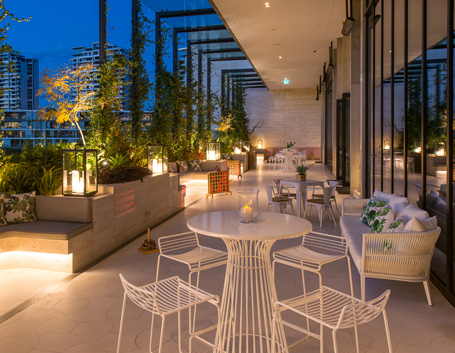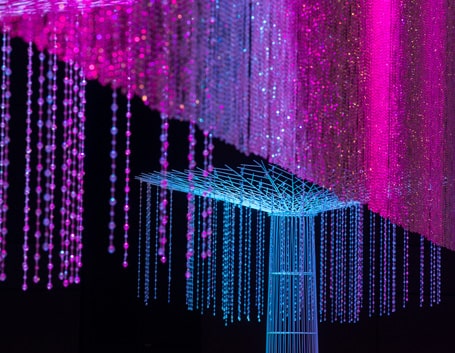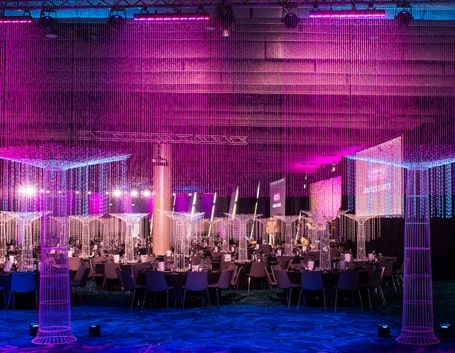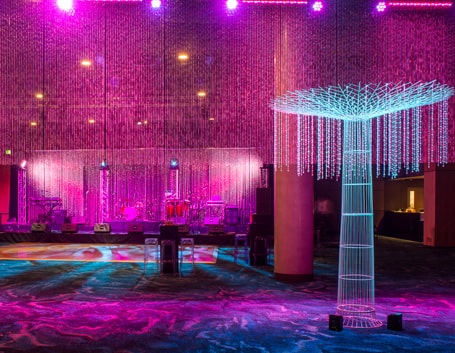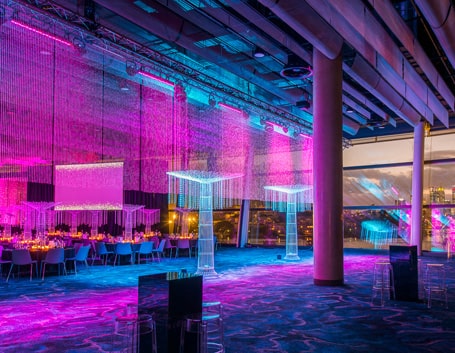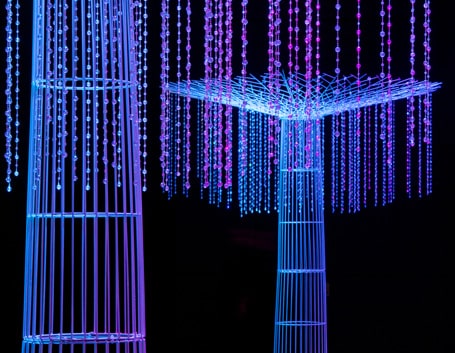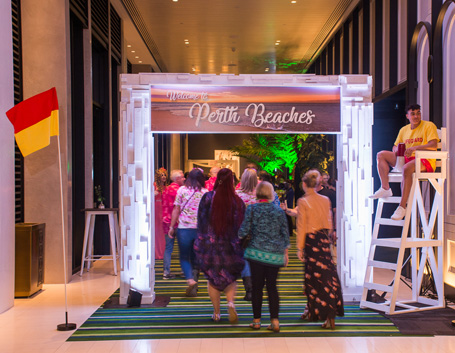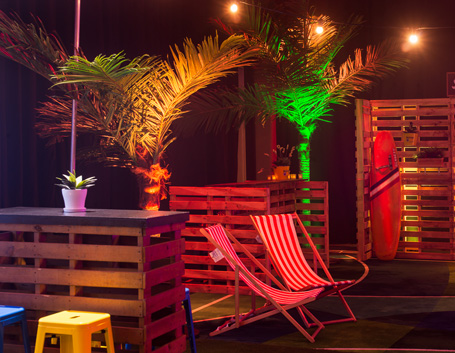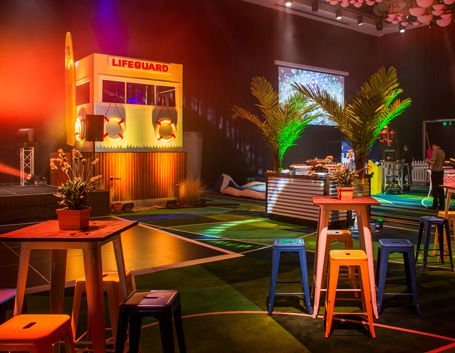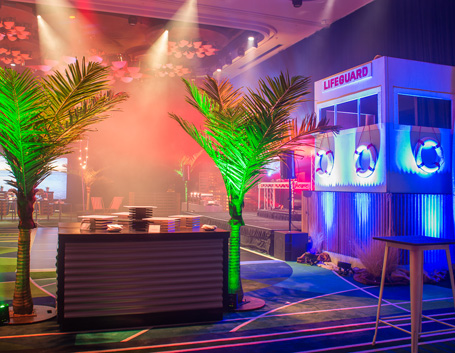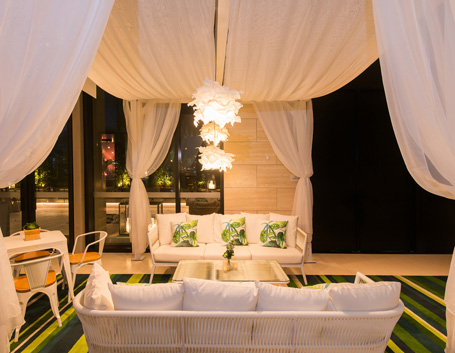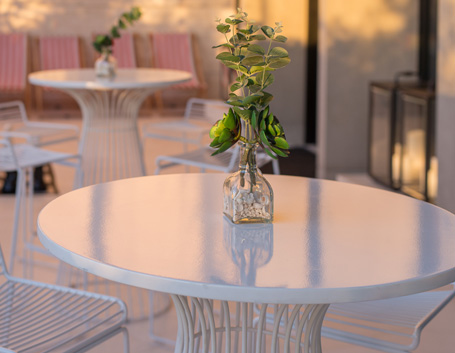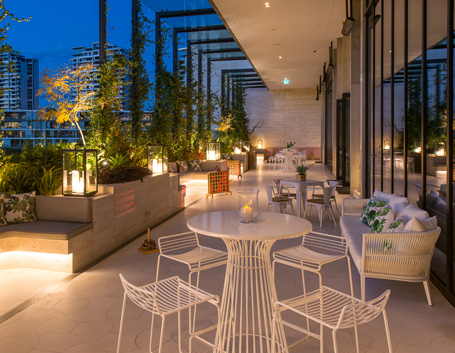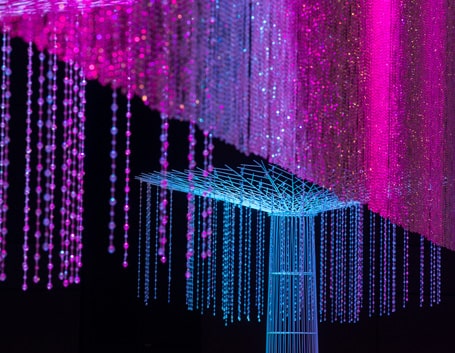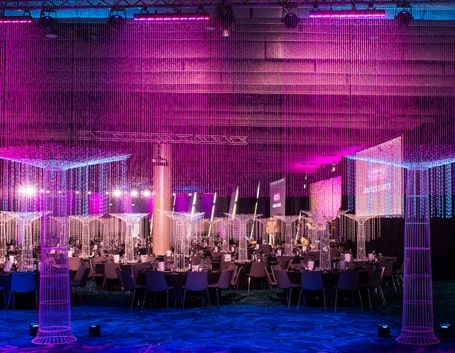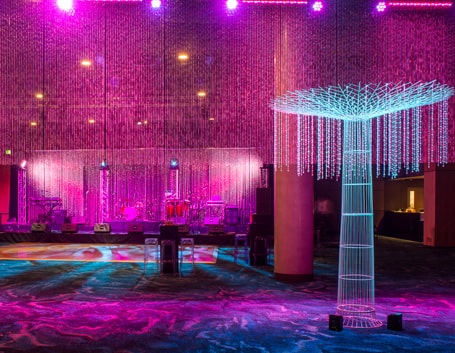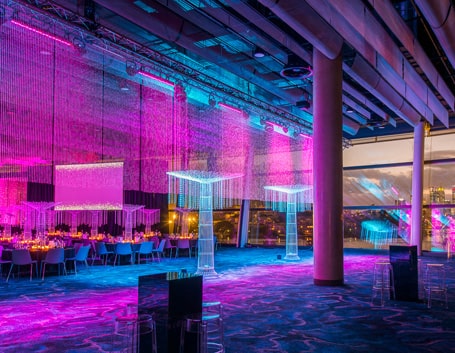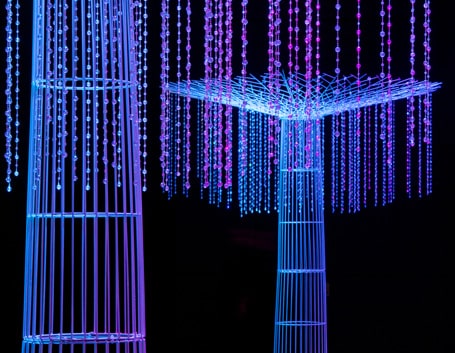 Priceline
Solution Provided
We were engaged by Andrew Balnaves, an Eastern States event producer, to provide the theming and styling for the recent Priceline Conference held in Perth. The conference had a number of social events and we worked with Andrew on the theming and styling solutions for each.
The welcome reception was held at Crown Perth and was a cocktail style event with the theme of "Perth Beaches". We created an entry feature with lifeguard chair, palm trees and a custom made archway into the pre dinner drinks area. Here we set a beach cabana and resort style furniture. Inside the main room the hero was a huge lifeguard tower that the DJ performed from! 4m palm trees, illuminated sunset backdrop and themed food stations brought the event to life.
The second night the guests enjoyed another cocktail style event at Sandalford Winery. The whole venue was utilised and the styling was inspired by a cosy winter lodge. Orange velvet furniture, copper pressed tin bars and beautiful florals all combined to create an intimate feeling throughout the space.
The final night was the gala dinner held in the ballroom at Optus Stadium. The brief for this was metallics and shine. We used beaded curtains to create divides within the room and the lighting on these looked magical. Add in our floor based 3m crystal trees and matching huge centre pieces and the overall look was sensational. The Priceline pink was the hero colour in the room and the reflective nature of the beads made for a beautiful setting.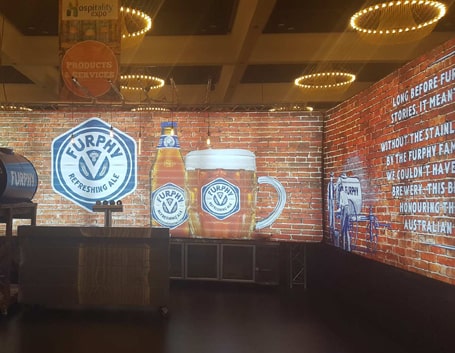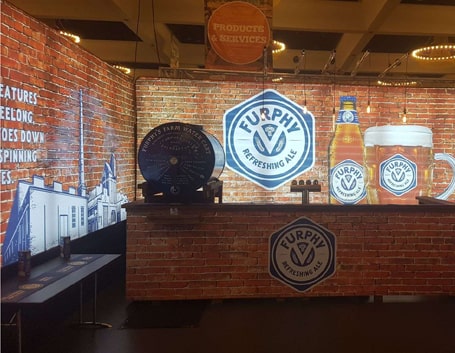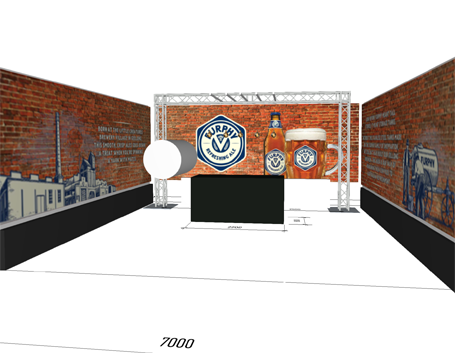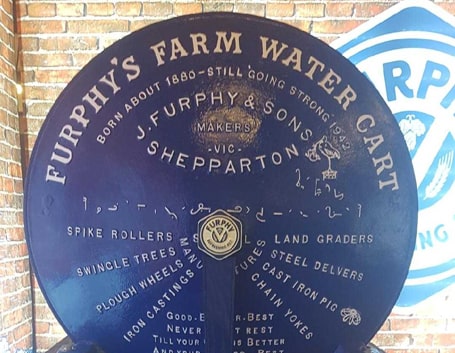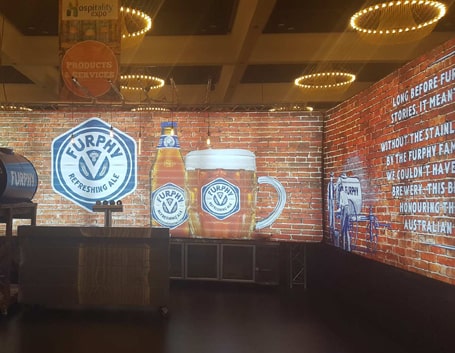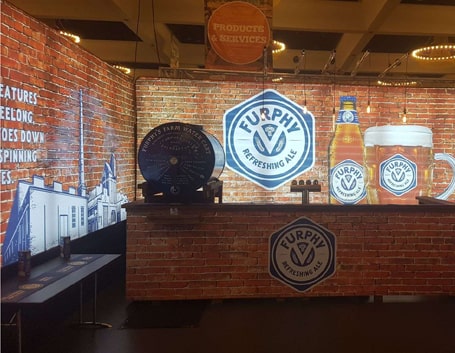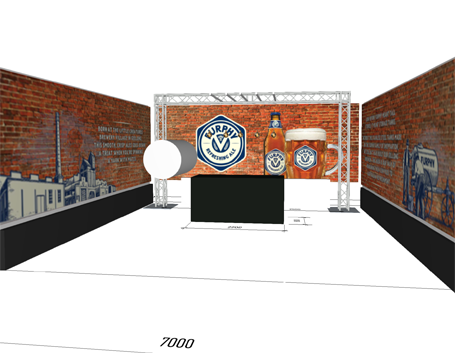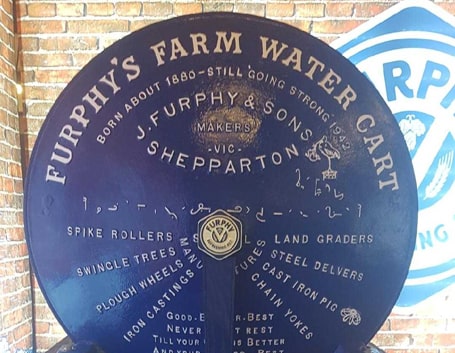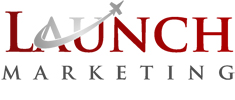 Launch Marketing
Solution Provided
When Launch Marketing came to us to design and build a custom made stand for Furphy beer at the AHA trade show we were excited to say the least. Expo stands present a great design challenge as the message and branding needs to be strong, the space needs to stand out in the crowd and it needs to be functional for the exhibitors. Our brief was to create the feeling of a rustic bar that matched the branding.
To define the area, we created three custom made light boxes that were used as walls. Each was designed with a brickwork look and included branding for Furphy. This closed in the space and made it feel intimate. A custom bar was set up where guests could try the beverages. Overhead lighting and furniture finished the look. For designs such as this we use our 3D render software to conceptualise the look. This helps the client to see the final outcome before it is even built.
The stand was awarded best at the show. You can't ask for a better outcome than that!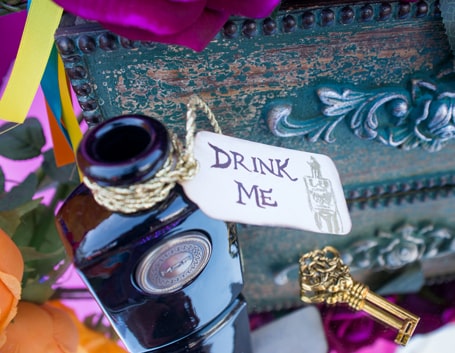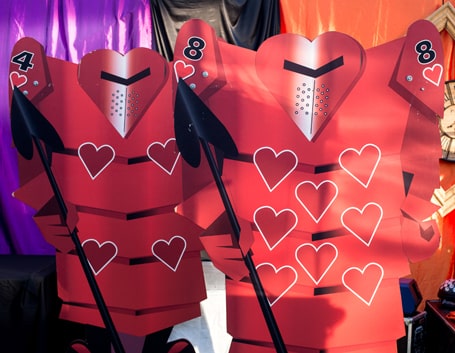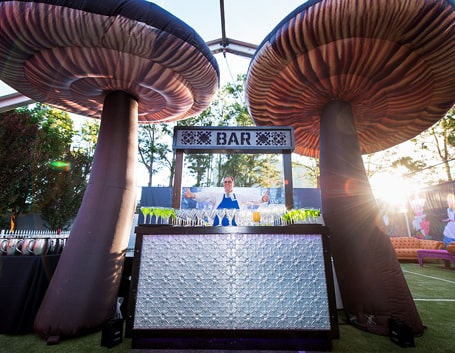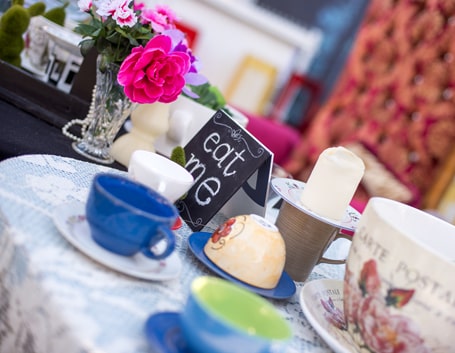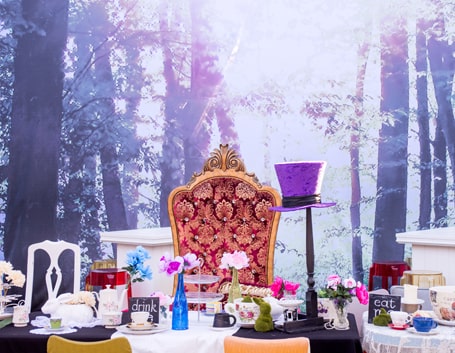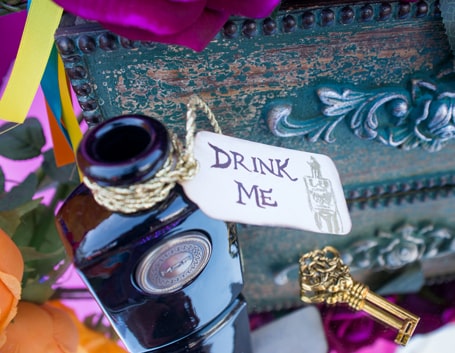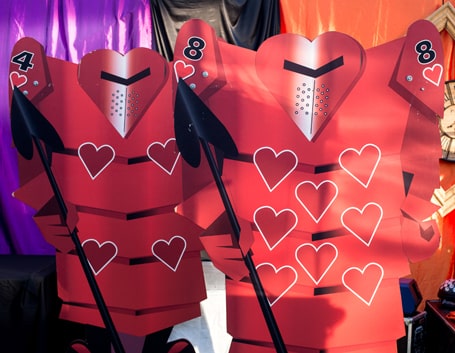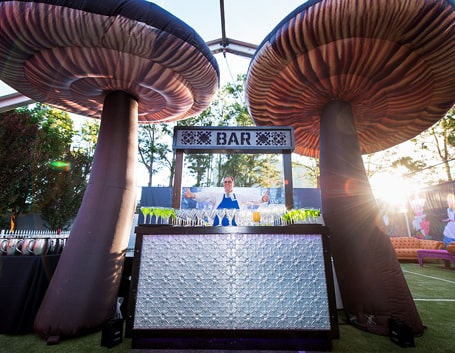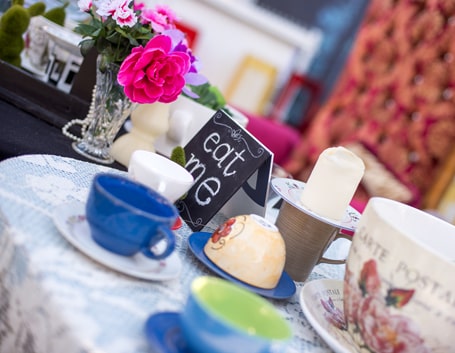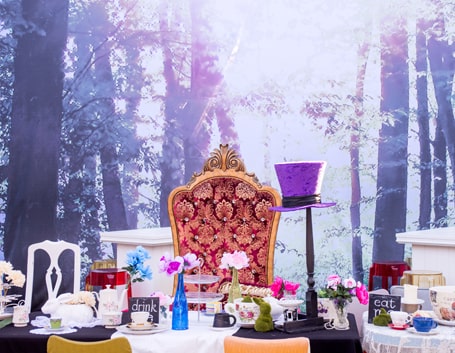 Coogee Chemicals
Solution Provided
"We're all mad here!" A statement to live by in the creative world, but also the driving theme behind our whimsical Alice in Wonderland set up for this client. Every year we turn a large space on their premises into another world for their staff Christmas party.
There was magic and fun at every turn for this event. Huge 3m mushrooms, card soldiers, a giant Mad Hatters tea party and flamingo croquet for everyone! The colour and vibrancy of this theme make it perfect for an end of year event where your guests can let their hair down. We created a chandelier made of chairs, clocks, picture frames and lights. The bar was a huge hit as was the photo booth area.
This group come up with the most amazing costumes for their events which just adds even more to the theme.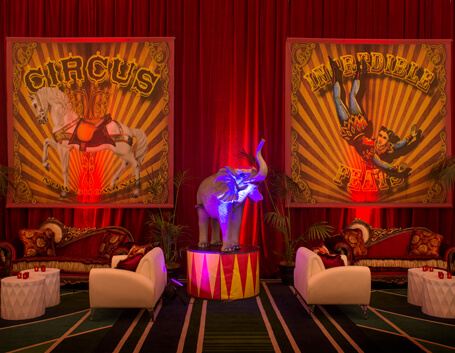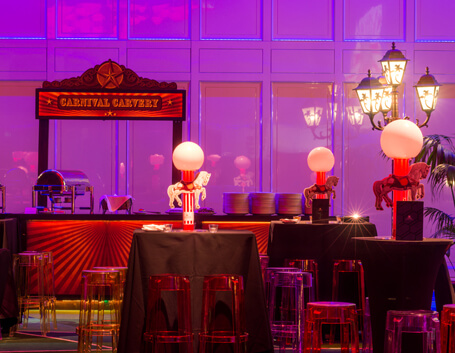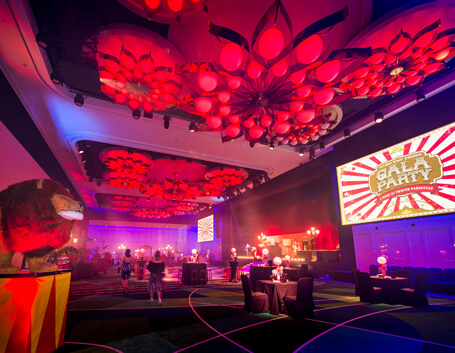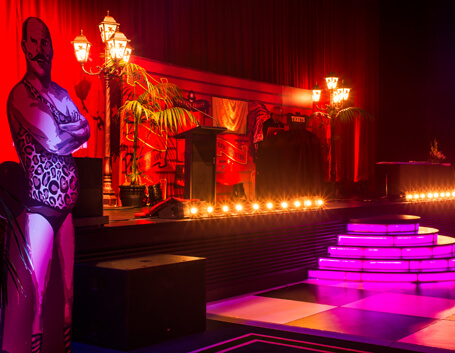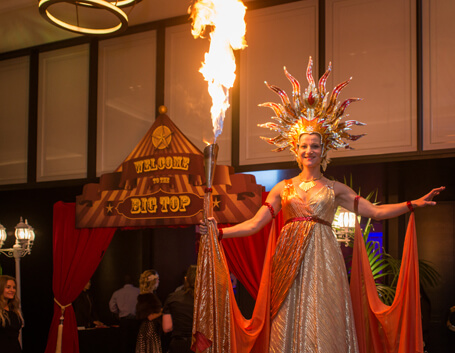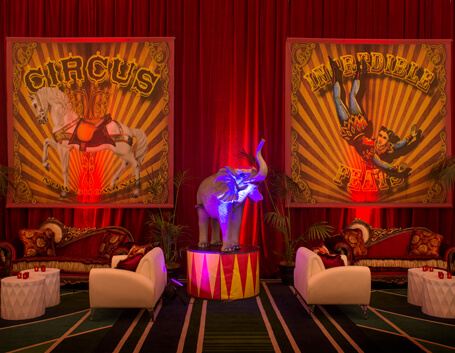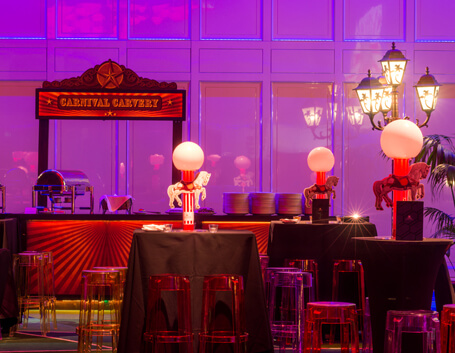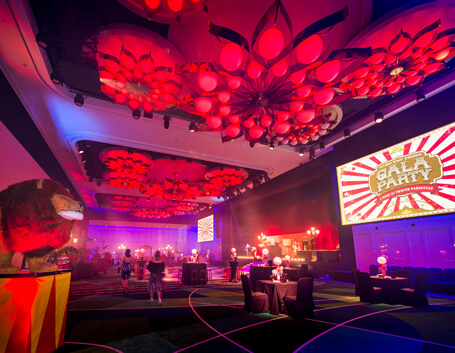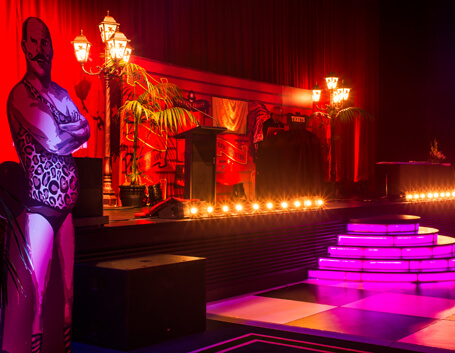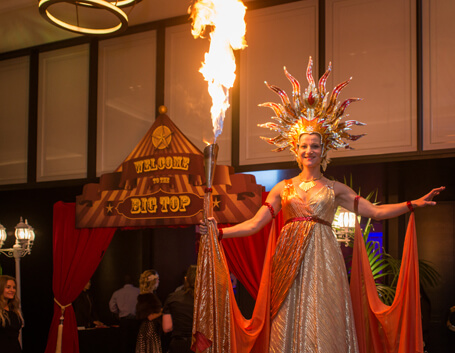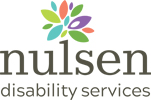 Nulsen Disability Services
Solution Provided
Roll up, roll up, the Circus is in town! Vintage Circus is by far one of our most popular themes. The entertainment options are fantastic, the food can be fun and the theming is colourful and engaging. Nulsen came to us to style their end of year staff event at Crown Perth in the new ballroom. The event was a cocktail party of 500 pax so the design and layout of the room were important considerations when pulling everything together.
We started with making the stage look fabulous using our Vintage Circus flats and lush red draping. Along the back wall of the room we created a chill out area using more red drapes, our circus backdrops and red velvet sofas and thrones paired with crisp white seating. Our elephant stood proud in the middle of the space. Food stations were all styled in the same look with custom made overhead signs stating the food being served at each.
A small sideshow alley area was set up with popcorn, a strongman and peep through board for guests to take photos, all under the watchful eye of our huge lion statue!
Bar tables and café tables were scattered through the middle of the room all with black linen and carousel horse centrepieces.
Our client said of his experience with Phenomenon : "Our Nulsen Staff Awards Gala Party was brought to life with the experience and professionalism of the team at Phenomenon. We had a sensational Circus/Vaudeville theme which provided a dazzling backdrop to our event thanks to Phenomenon".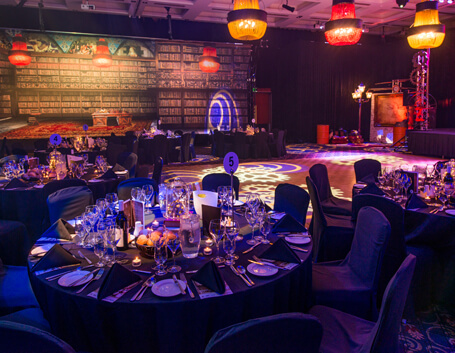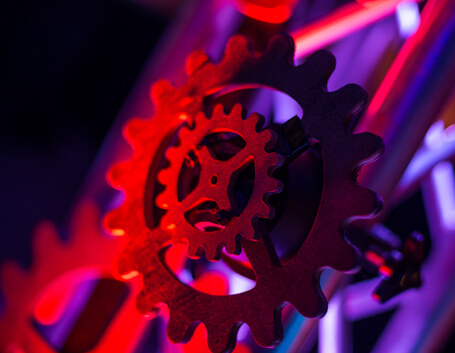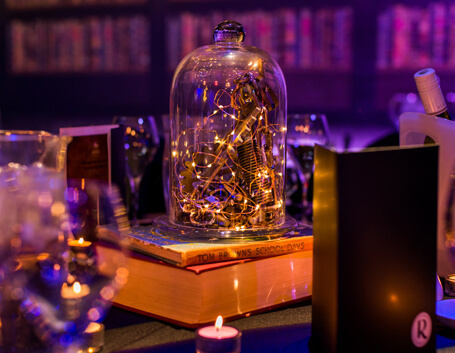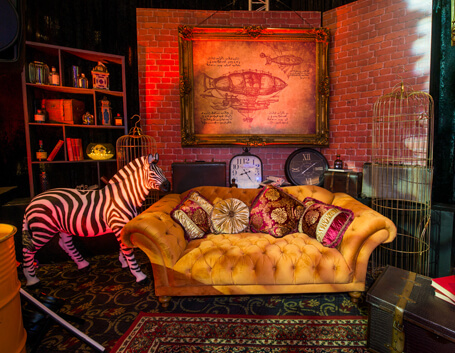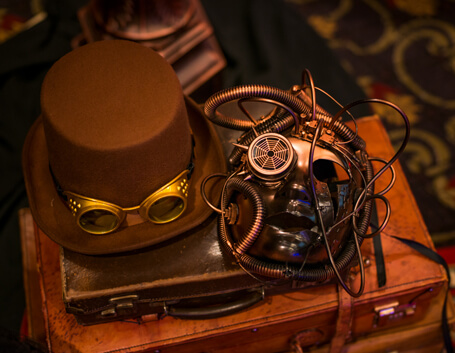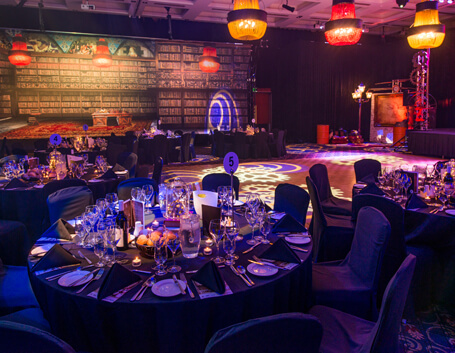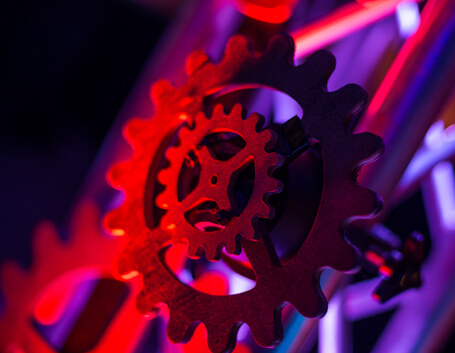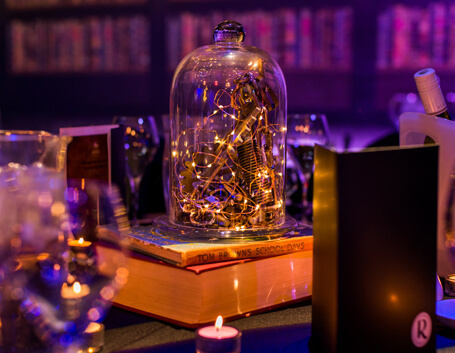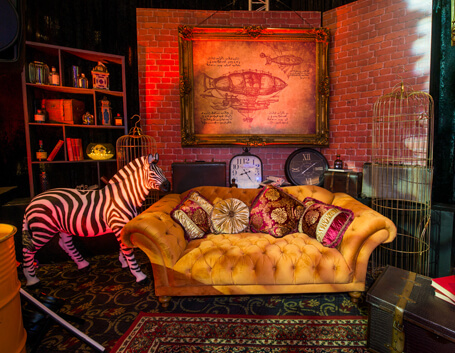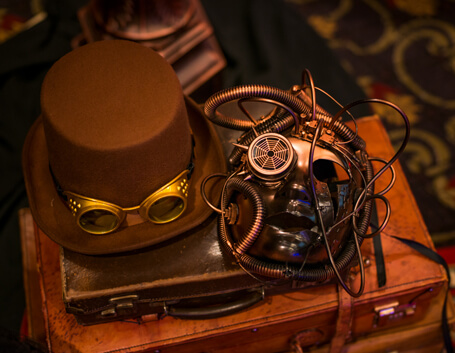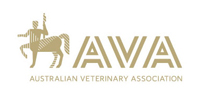 Australian Veterinary Association
Solution Provided
We love nothing more than creating a new set! When AVA came to us with the theme of Steampunk we couldn't wait to sink our teeth into it. It was something we had talked about for a number of years as a great theme for an event. What is Steampunk? It is a mix of industrial and Victorian styling. Think lush textures like velvet paired with metal and cogs. It is whimsical and adventurous. It is the definition of design meeting style.
We started by designing custom made backdrops to run the length of either side of the room. Huge beaded chandeliers with metal finishes hung overhead. The stage set was made using industrial truss and custom made cogs. Huge design prints were hung in frames and set with velvet sofas, birdcages and even our zebra! We custom made centrepieces using glass cloches, fairy lights and spare parts that we collected from all over Perth and custom painted.
Our creative team loved the challenge of bringing this theme to life!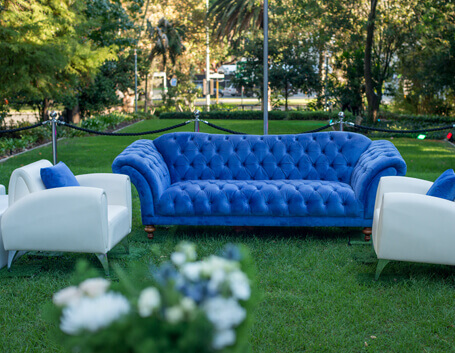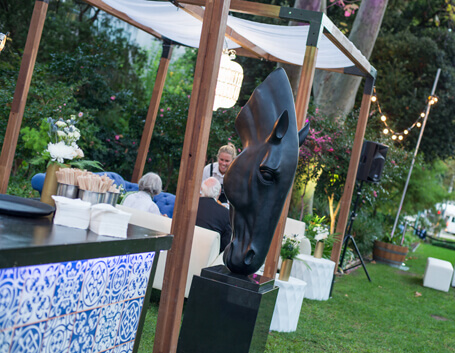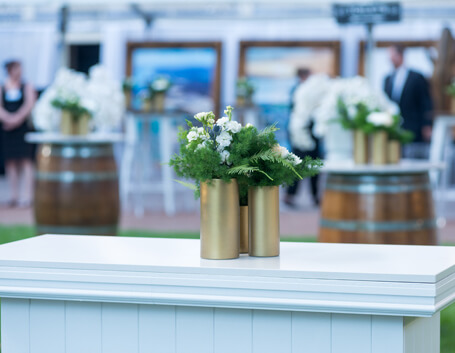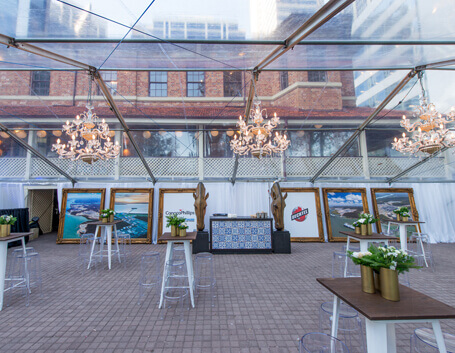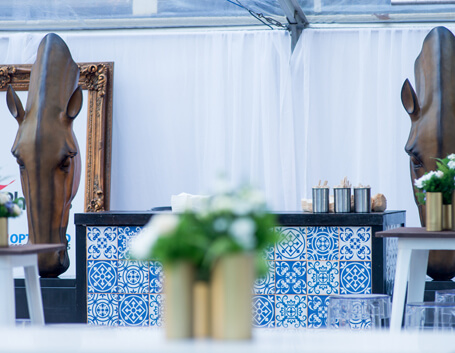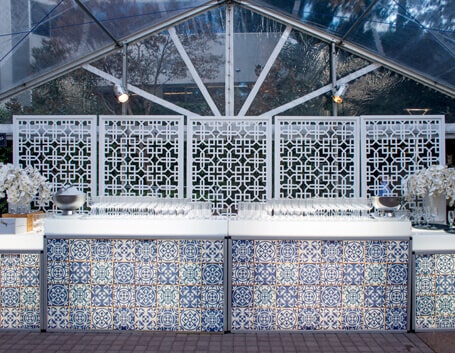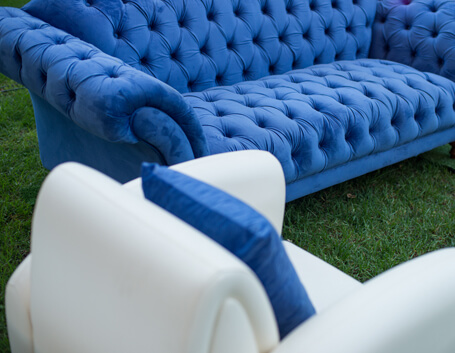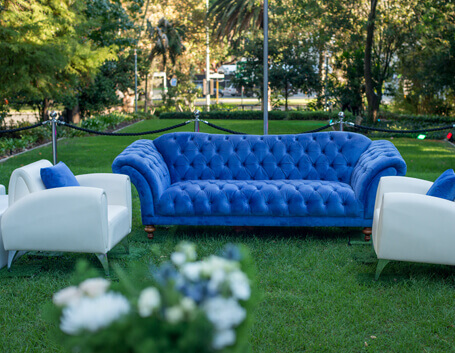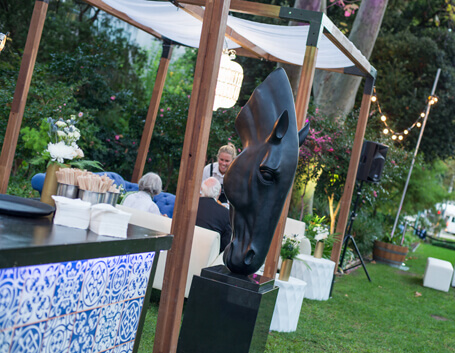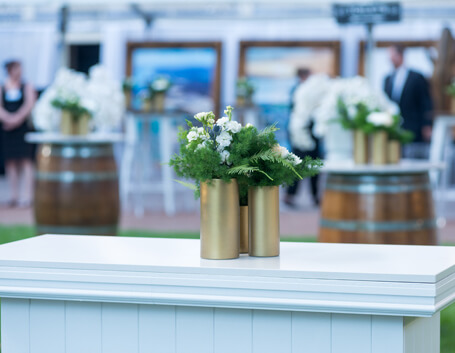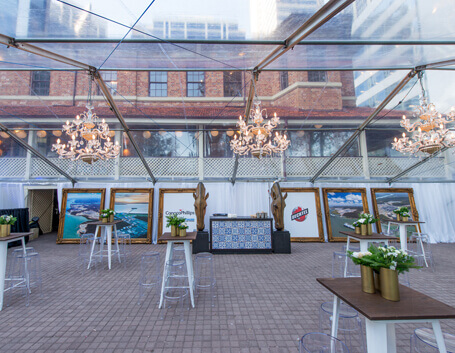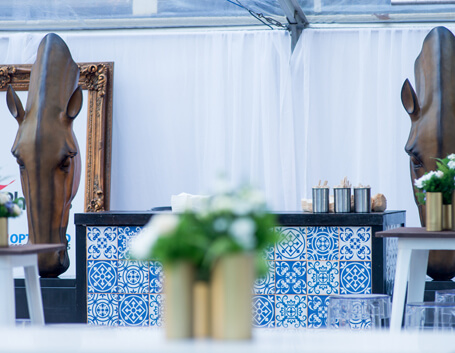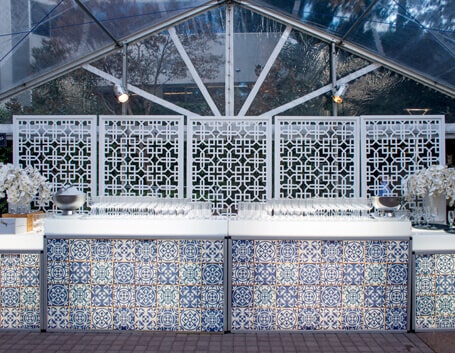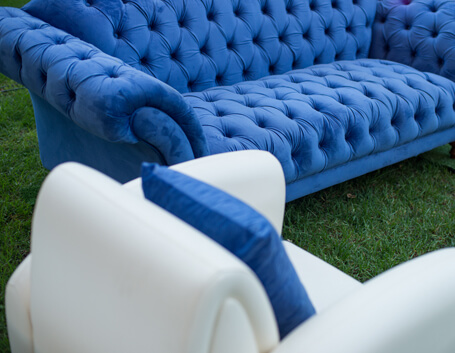 ConocoPhillips
Solution Provided
Lamonts Bishops House is beautiful event venue tucked away in heritage listed gardens in the middle of the Perth CBD. This was the location for the prestigious cocktail event for ConocoPhillips as part of the international LNG conference. The brief was to create an elegant and high end look that matched the beautiful surroundings, but also something that was relaxed as this would be where the guests would be coming after the conference to network and mingle.
We started with a colour palette of blue and white that represented Western Australia's beaches, with touches of green and gold for the bush. A marquee was setup on the paved area and the lawn was used for chill out cabanas and furniture. We custom designed a huge drinks bar with a beautiful pattern on the front and white screening behind. Chandeliers hung from the marquee roof and gold ornate frames displayed LNG projects that ConocoPhilips were working on. Florals on all the hi bar tables added softness and blue velvet furniture added a touch of luxe.
We used lighting in the stunning gardens to highlight the trees and the final look was breath taking.
OUR TEAM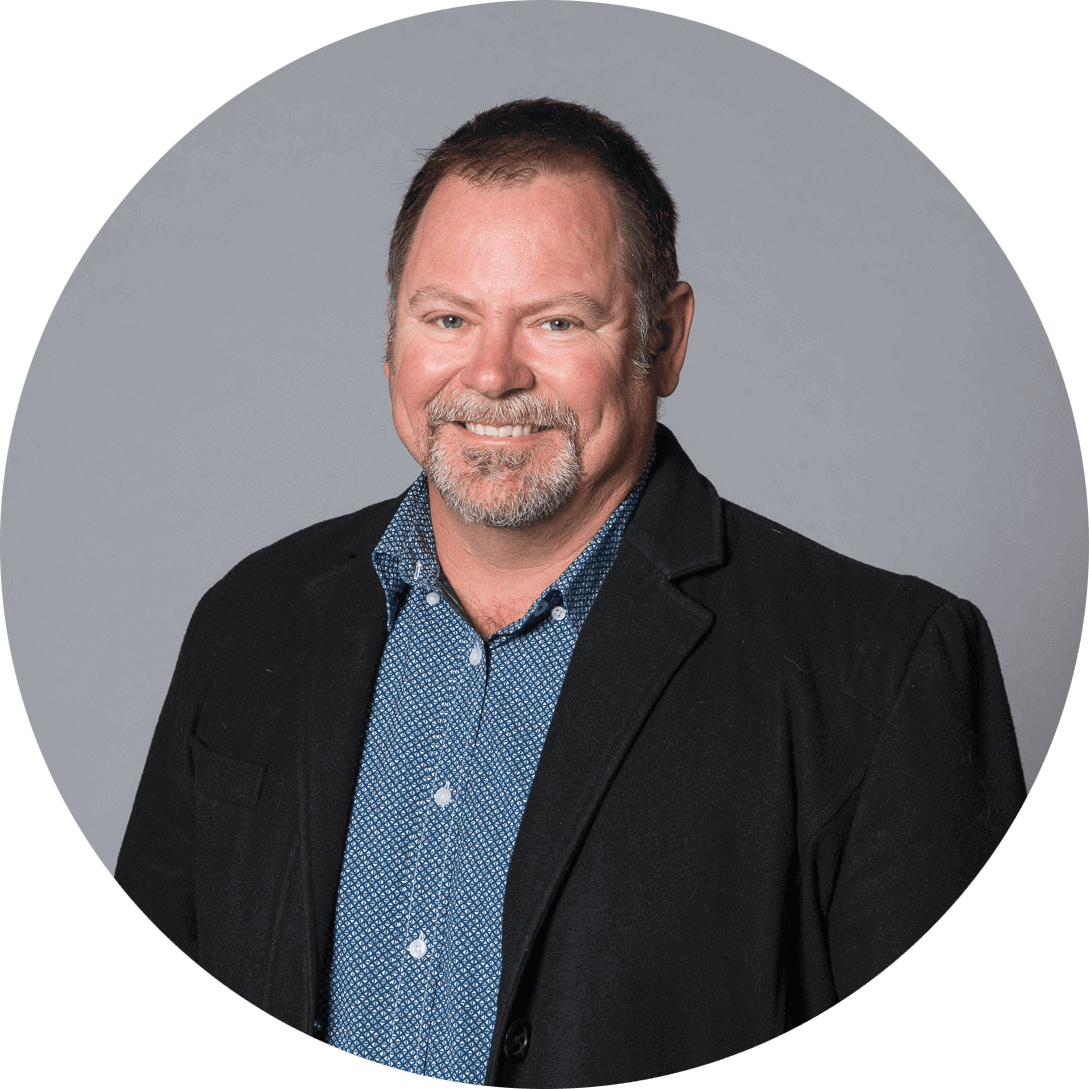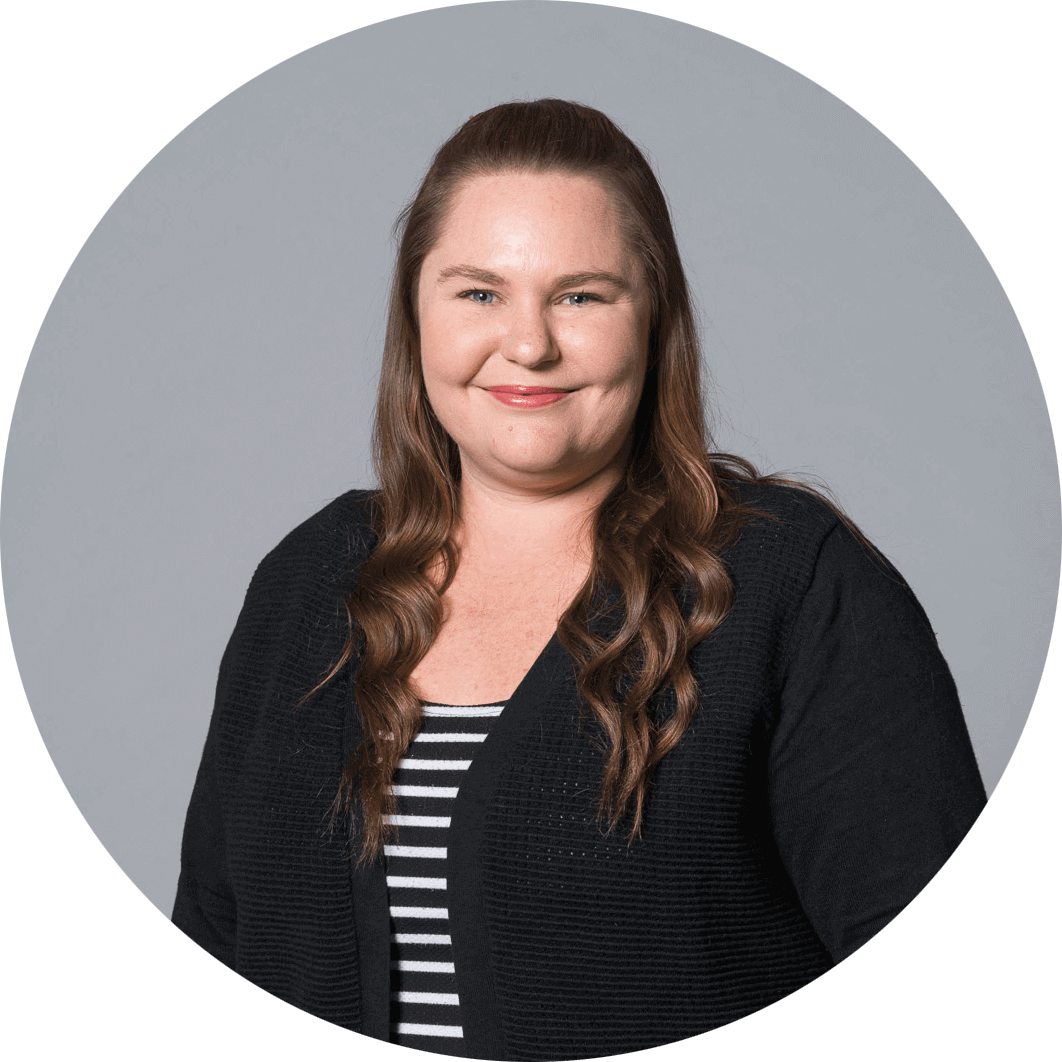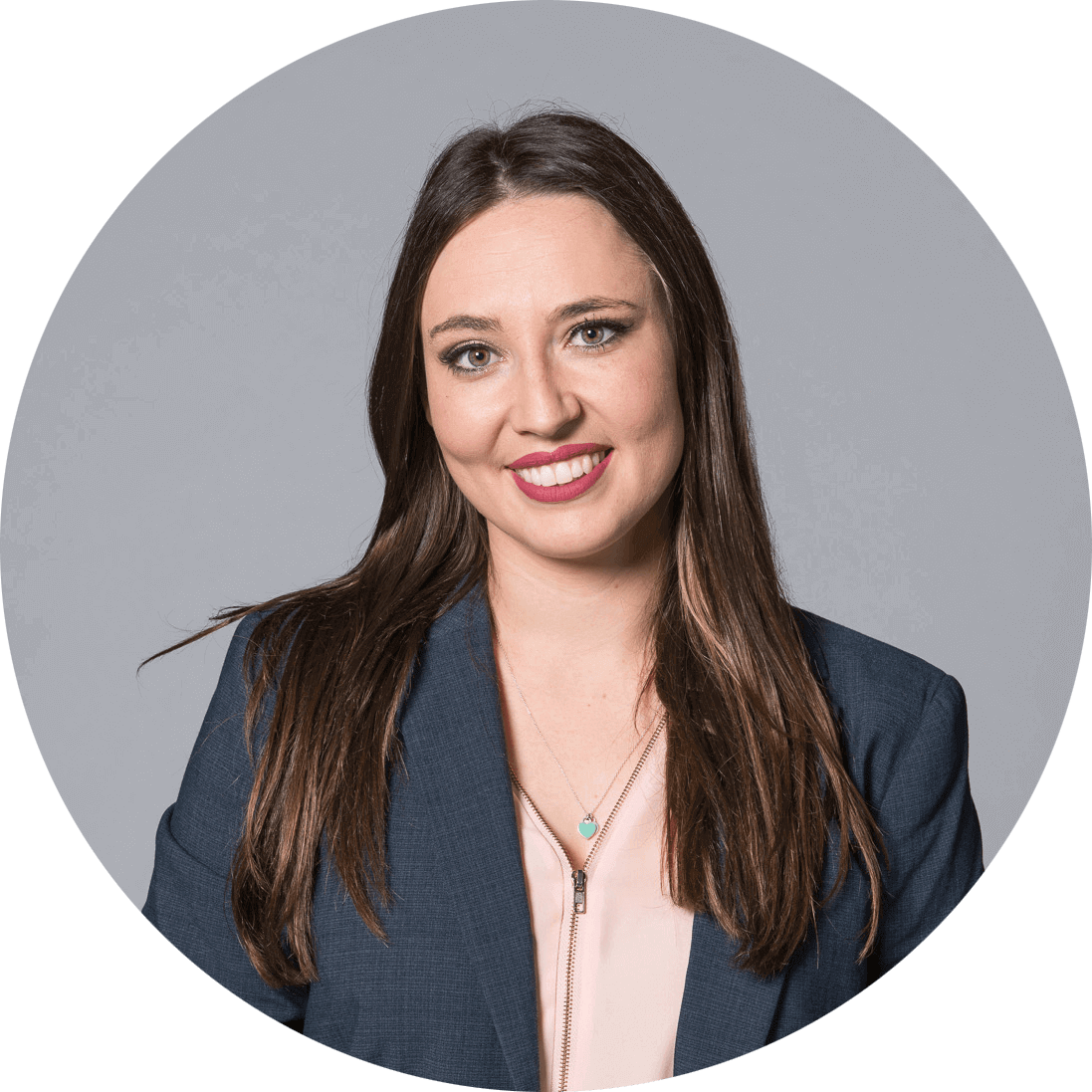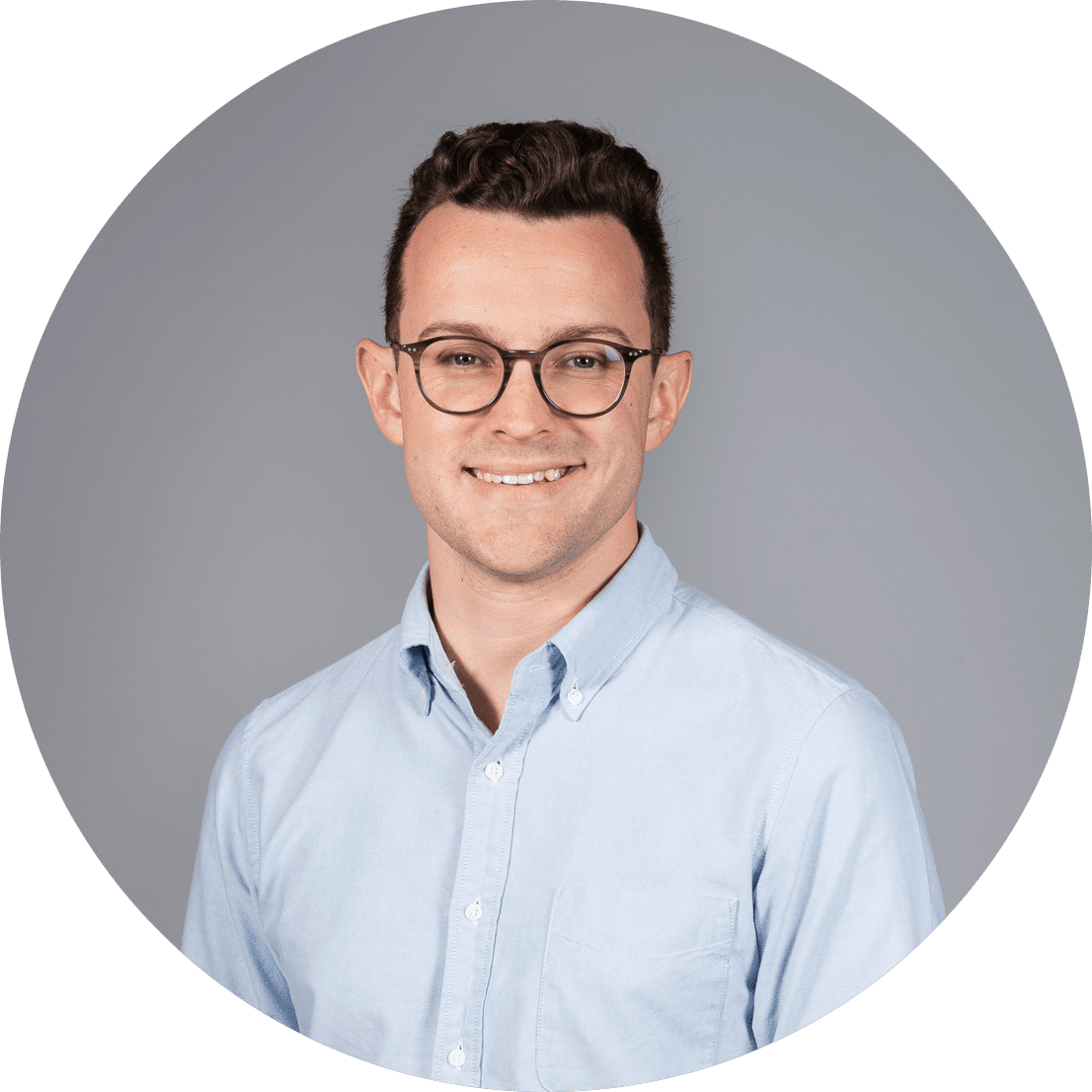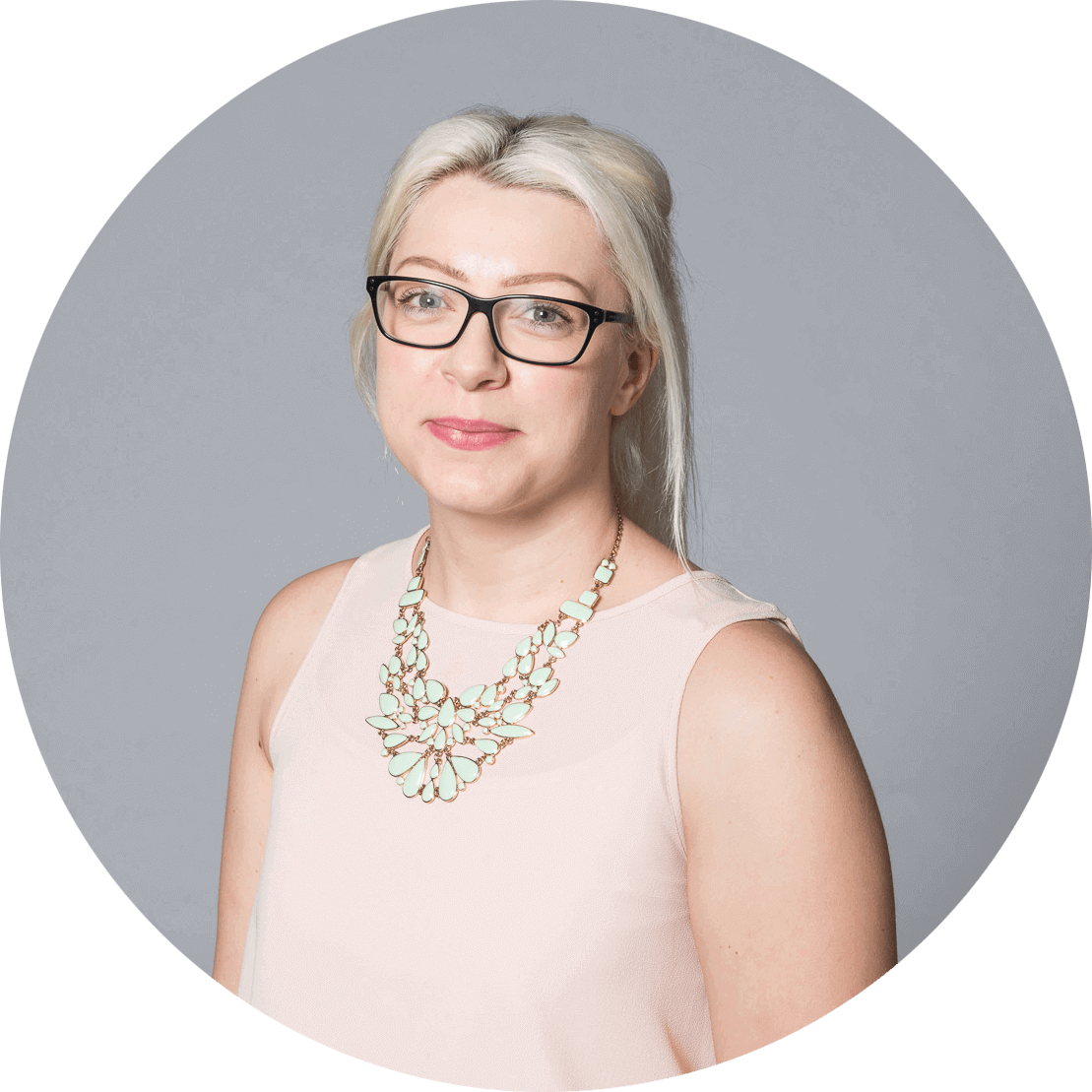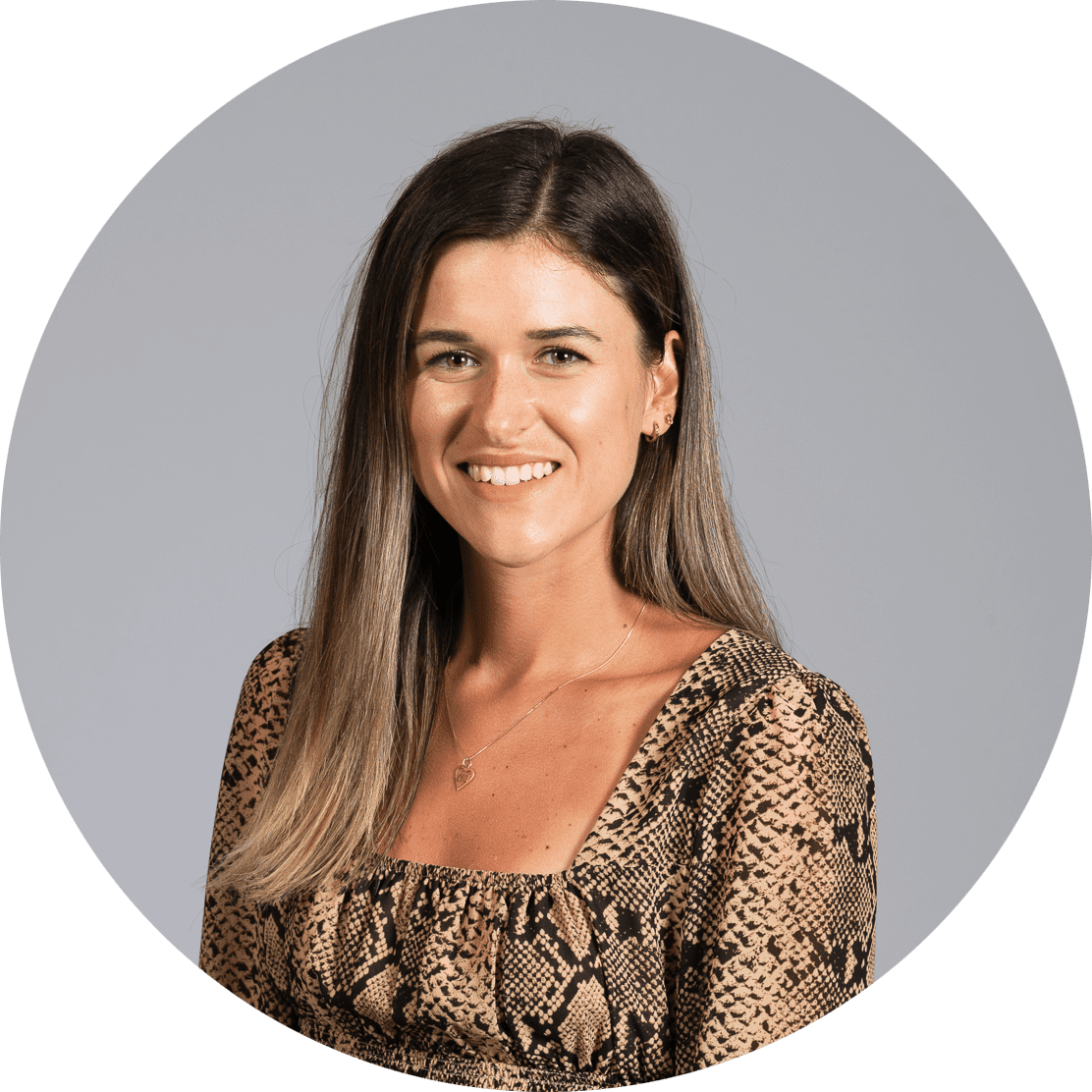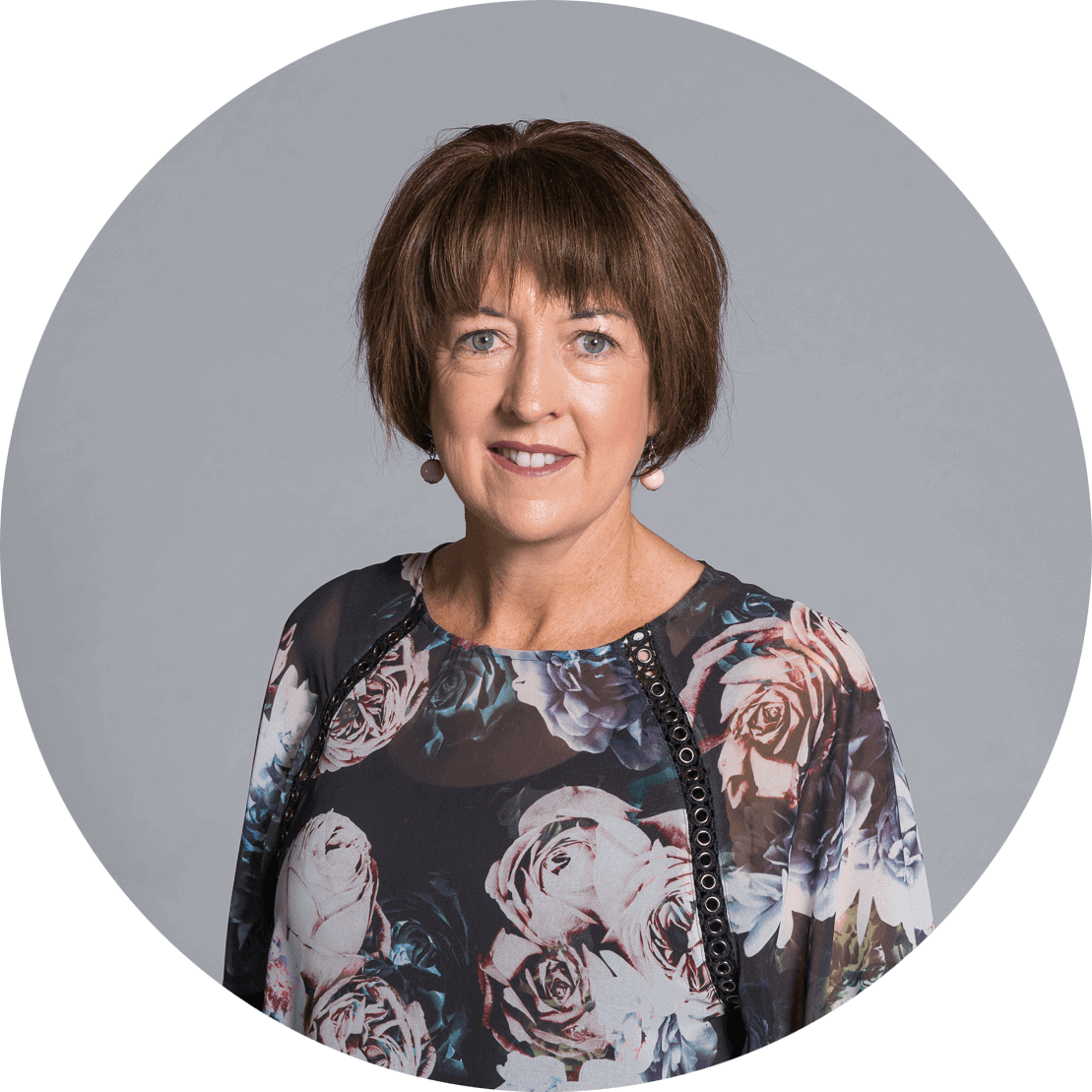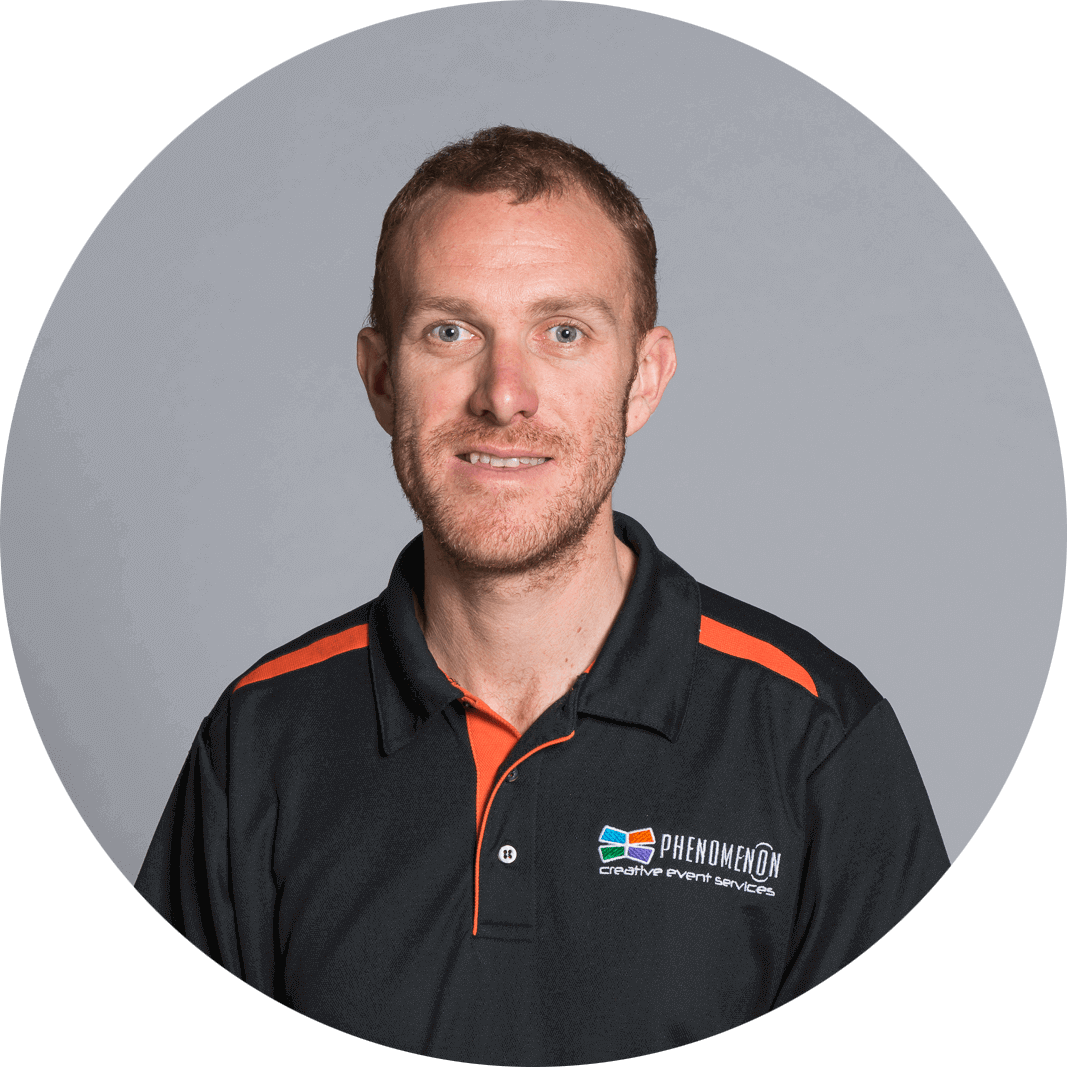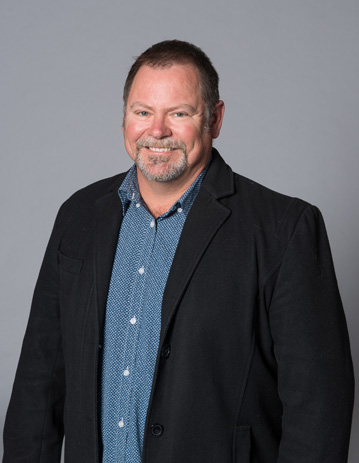 Paul Cumming
Director
Paul's journey began immediately after he left high school when he attended the West Australian Academy of Performing Arts and studied Media Performance. Paul went on to achieve a BA in Media Studies and then spent another year completing a Graduate Diploma of Education in English and Media.
In 1989, Paul and his business partner, Steve Power, started Da Doo Ron Ron DJ Entertainment Services from a desk in their garage, later becoming the most reputable DJ providers in Perth.
While juggling studies and the DJ business, Paul decided to travel. He landed himself a job as Head of Videography at Stagedoor, Manor Performance Arts Camp in New York where he returned for four summers over 7 years.
In 2000, "Phenomenon Creative Event Services" was born! The business took a giant leap forward, expanding to include Photography, Videography and Theming. In more recent years the DJ, Photography and Videography arms of the business were sold and the primary focus became event theming, styling, corporate branding, furniture and prop hire.
In 2009, Paul began the annual fundraising event Kathmandu Kids (kathmandukids.com.au) which funds the education of over 200 impoverished children in Nepal. It fits well with Phenomenon's continuing partnership with many local charities including Princess Margaret Hospital Foundation and Down Syndrome Association of WA.
In late 2011, Phenomenon realised a long term goal and moved into a custom, re-fitted office and adjoining warehouse. Now with more than 26 years experience working in events, supported by an overflowing warehouse of furniture, styling elements and props, Phenomenon is recognised as Perth's premier theming and styling company.
Paul now travels the globe in the name of expanding the knowledge base of the business in search of new ideas, trends, methods and styles. He maintains it's all about keeping it fresh and interesting and delivering an experience to every client.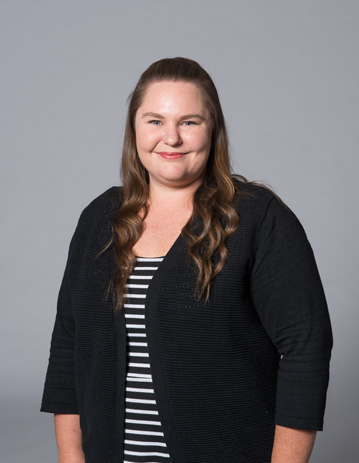 Kellie Holden
Event Stylist
In 2000 Kellie left Perth and hit the bright lights of London. In the four years she lived there she worked for Europe's biggest prop hire company and got to work on some amazing events including Elton John's White Tie and Tiara ball not to mention plenty of A, B, C and D list celebrity parties, engagements, launches and huge Global Corporate events.
She got to see the inside of some of the most famous and exclusive hotels and clubs in the world. During her time in London she also travelled extensively including most of Europe and numerous trips to Africa.
On landing back in Perth in 2004 she was lucky enough to find a job in her field with Phenomenon. During the next seven years Kellie worked as an event producer, styling and organizing some of Perth's largest corporate and private events. In her time delivering events Kellie was passionate about ensuring her client's needs were met and exceeded every time. She believes customer service and attention to detail are key in delivering a successful outcome for the client.
In 2011 she left to have her first child and returned in 2013 on a part time basis to assist Paul Cumming as a PA.
Kellie is back now in full swing working as one of our event stylists.
Over the past 15 years Kellie has seen Phenomenon change from a small wedding and events service provider to a large scale business that has won an Australian Event Award and was a finalist for International Event Company of the Year!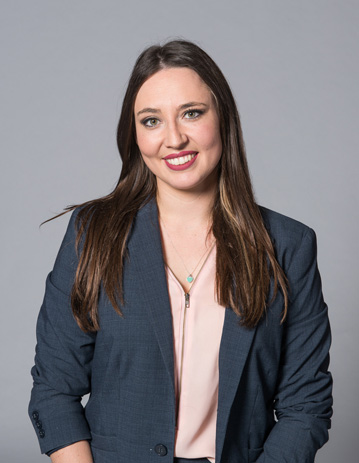 Asha Lauren
Event Stylist
Asha's passion for events started with one of her earliest childhood memories …
Carport beams groaned under the weight of heavy cargo ropes, larger than life mushrooms dotted the driveway, a black pirate flag flapped in the breeze, and Asha's sister (Wendy for the day) wandered through the party in search of Tinkerbell. At that moment … Asha was hooked!
After graduating from Presbyterian Ladies' College, Asha completed a Bachelor of Arts (Communications) at the University of Western Australia. She then undertook post graduate studies in Event Management (graduating with distinction) before heading off to the east coast to embark on her career. In Melbourne, Asha had the privilege of working with the team at Ascot House, one of Melbourne's premier wedding venues before unleashing her creative talent at Refresh Hospitality where she was responsible for the design and delivery of bespoke events for major corporate clients including Yelp and Bupa. After returning to Perth in 2015, Asha worked as Senior Events Coordinator for Caversham House.
Her resourcefulness and creativity were put to the test in 2017 when the river burst its banks and flooded the grounds and gardens … but, as always, the show must go on! Later in 2017 Asha joined the team at Phenomenon where she enjoys the challenge of delivering high-end creative and innovative events at the cutting edge of event design.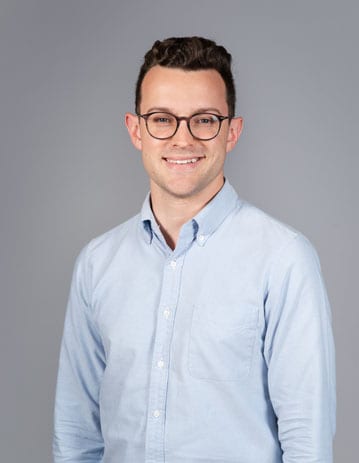 Liam Guiney
Event Stylist
Liam's passion for event styling goes back to the early days when his friends church would throw the most amazing events, often on a shoestring budget, but with a whole lot of creativity and thriftiness to transform their community hall into the Titanic or Gotham City. Upon leaving High School he completed an Advanced Diploma of Film and Television specialising in Directing. It wasn't long before London called and he took off gallivanting across Europe working for companies like Apple and The Ambassador Theatre Group home of Disney's, The Lion King Musical.
After returning to Perth in 2012, Liam eventually cottoned onto the idea that he should actively pursue a career in Events having been told this by multiple people over the years and returned to study at The Central Institute of Technology completing a Diploma of Events.
Since completing his qualification, Liam joined the Heart Inspired Events Team which specialise in delivering community events such as The East Fremantle Festival, Mount Hawthorn Hawkers & Kyilla Farmers Markets. He then joined the UWA Student Guild team as the Event Officer, overseeing 1200+ annual student led events, while delivering large scale events like UWA Orientation Day, Music Festivals and the annual Guild Ball held in the iconic Winthrop Hall.
Liam's favourite aspect of any event is creating the WOW factor. Since joining the Phenomenon team Liam has loved contributing to our client's events WOW factor by designing and transforming event spaces and providing unique and engaging experiences for their guests!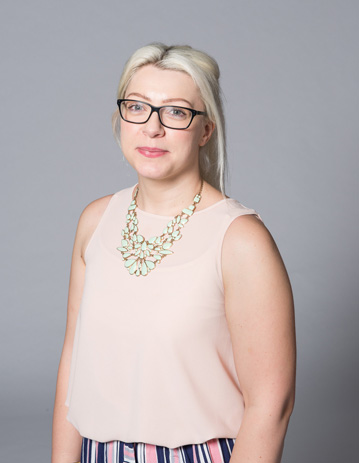 Olivia Gill
Logistics Manager
In 2012 Olivia left London, to embark on her journey across the globe to Perth.
Olivia began her Event Management Career in London managing a wide variety of events from 5 to 500+ guests for team building days, private parties, conferences, products launches, incentives, gala dinners, corporate parties – anything that she could event manage!
Olivia gained an in depth knowledge to many London, UK and Europe hotels and venues, however after several years in London, Olivia decided it was time for a new adventure…
Upon arriving in Perth Olivia secured an Event Management role managing events up to the Pilbara region. In 2013 Olivia moved into an Event Manager role for a global event management company. Here she managed and delivered a wide range of local and international events, travelling from South Africa to New Zealand, Byron Bay and many more locations. After 3 years in the role, Olivia wanted to focus more on her creative side. Having previously worked with Phenomenon Olivia knew this is exactly where she wanted to be.
2017 meant a New Year, New beginnings!
Olivia knows the theming and styling of every event is the first and last thing guests will always remember and will ensure all events have that WOW and creative factor!
Olivia understands each event is unique and her friendly and open personality ensures she listens to what is important to each client to provide advice and solutions for the successful execution of every event.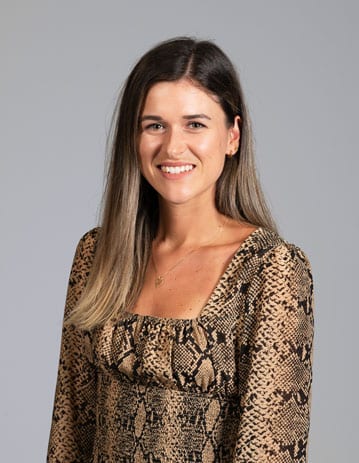 Caitlyn Underwood
Logistics & Production Manager
At the age of 20, Caitlyn was known as the party planner and social organiser within her friend groups and family. This then sparked the idea to take these skills on as a career and decided to embrace the world of events.
Caitlyn holds a Diploma in Events and since completion has stepped out into the big world of events where she has gained her experience and skills with multiple event companies & services.
Caitlyn began her journey at Phenomenon Events as an Event Assistant and has now stepped up to take on the Role of Logistics and Production Manager. With her attention to detail, organisation skills, go-getter attitude and love for check-off lists, Caitlyn now handles the logistics behind the 'WOW factor' of events and enjoys being a part of the process of transforming event concepts into successful events.
Caitlyn also likes to stay in touch with her creative side, so she works closely with the Event Styling team to get her creative fix and occasionally pitches in with ideas and concepts – it's the best of both worlds!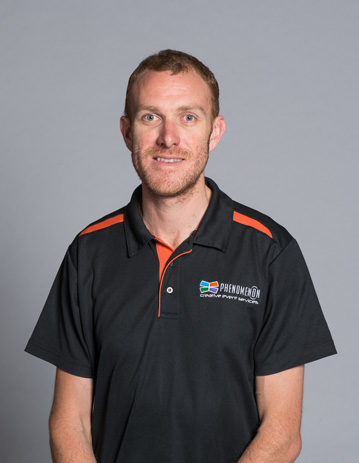 Sean Fletcher
Warehouse Manager
On completing his degree in Events and Marketing at the end of 2012 Sean took a year off to travel overseas. After spending many months and all of his money backpacking through Europe Sean returned to Perth at the end of 2013 to find a job at Phenomenon.
Working within the operations team for the past 5 years Sean has learnt the ins and outs of nearly every venue in Perth and has lead teams on countless setups and packdowns. Stepping up into a new role as Warehouse Supervisor earlier this year, Sean uses his knowledge from the last 5 years to lead Phenomenon from the front, overseeing all ins and outs of the warehouse whilst leading teams and meeting clients onsite to ensure clients expectations are exceeded every time.